Regular price
$119.00 USD
Regular price
Sale price
$119.00 USD
Unit price
per
Sale
Sold out
Description

★ Bring your wedding colour palette to life in no better way than with personalised traditional Mexican wedding papel picado bunting, made to order in as many colours as you like from over 50 tissue paper colours.
★ Handmade to order in Mexico, featuring your names and wedding date in the flags, and shipped to the UK or worldwide with DHL in 4 just weeks.
★ These sustainable wedding garlands are made to the lengths that you need. Every 5 metres (16.4ft) of garland has 10 large flags along it; 4 personalised names and wedding date flags, mixed in with 6 different traditional Mexican wedding flag designs with flowers, hearts, doves, fireworks, cups, exactly as shown in the listing photo with the pink background.
★ Photos kindly provided by our clients, couple Patrick & Nicola. Photography credit: Photography by Vicki
How to Order

1) Select the total metres/feet of bunting that you need where it says SELECT TOTAL QUANTITY HERE. The more bunting you hang, the more amazing your venue will look! - if the quantity you require is not listed, please message us and we will add it
2) Enter your custom order info in the fields above
3) Click ADD TO CART and check out
4) You will receive a confirmation email from Aprylle confirming all your personalisation info and your order ship date
Size & Material

Each flag measures 47cm x 35cm (18.5"x13.5") - and there are 10 flags per 5 metres (16.4ft) of string (4 personalized flags, 6 traditional wedding flags)
Garland Colours

Either all white or your own custom colour selection. You can choose as many colours as you like from the flag colour catalogues. And the colours can appear in any order you like; either repeated in a specific order so that every garland is identical, or with all the colours all mixed up along all the garlands.

Tissue Paper Flag Colour Catalogue

(Please make sure you purchase with the correct listing, either tissue paper or plastic.)
Garland Design

The personalized names and wedding date flag is every 3rd flag along the bunting, and the rest of the 6 flag designs are traditional Mexican wedding flag designs of flowers, hearts, doves, fireworks, cups.
Custom Flags

The personalized names and wedding date flag is every 3rd flag along the bunting, as shown in the listing images.
Free Waving Flags

You will receive 50 free matching papel picado waving flag favours with your names. Tissue paper flag is 15cm x 12cm (5.9in x 4.7in), on a 30cm/1ft wooden stick. Contact us if you would like to order extras.
How To Hang

You hang papel picado up just like regular bunting. Tie them around strong clear sellotape, or anything available, or stick up temporary clear 3M Command Decorating Clips.

To hang your papel picado, first decide which Papel Picado Hanging Style you are going for. Then...take your first garland out of the packaging very carefully, making sure you don't let any sellotape on the packaging touch the tissue paper flags.

We recommend hanging them in parallel rows across the width, with 1 metre between each row.

Wrap the string at one end of the garland twice around a piece of strong clear sellotape or a command strip, and stick in position on a wall/a beam/a curtain rail etc, or tie the string to a tack nailed into the wall/a beam/a tree etc. Now do the same at the other end of the garland. You can always stick up a few garlands lightly with sellotape to check how they look before hanging/tacking them all up.

If your garlands are too long or too short for your venue - no problem! ;) - you can easily make the perfect garland lengths for your venue with whatever length garlands you have bought:

To make a garland longer:

Tie the garlands together at each end with a tight knot and cut off the extra strings from the knot, no one will ever notice the join.

To make a garland shorter:

Measure the garland to the length you want to cut it down to, then at that point along the string, carefully rip off the flag in that location. Leave 20cm at the end of the garland for tying, then cut the string there. You can start a new garland with the remaining garland that you cut off, and if it's too short tie it onto the end of the next garland. And repeat!

Need Help Hanging Your Papel Picado?

If you have any questions at all while hanging up your papel picado please send Aprylle a WhatsApp to 00 52 33 1344 2593 or an email to aprylle@artmexico.co.uk and she will happily advise you.
Production Time

Standard production time 4 weeks (Urgent orders can be made in 1 week - please message us first to check.)
Shipping & Returns

Shipped by DHL tracked insured courier from our studio in Mexico.

United Kingdom: 3-4 business days - FREE
North America: 1-2 business days - FREE
Europe: 3-4 business days - £30 (approx. €35)
Australia, New Zealand, Oceania, Asia Pacific: 5-7 business days - £40 (approx. USD$56)

CUSTOMS & IMPORT TAXES:

UK, Europe, Rest of World: Buyers are responsible for any customs and import taxes that may apply. You are usually charged 20% of the invoice amount.

USA orders are not charged with import tax.

ArtMexico is not responsible for delays due to customs.

RETURNS:

Custom-made/personalised orders can't be returned or exchanged. Because of the nature of these items, unless they arrive damaged or defective, can't be returned. 
Contact us

Contact us with any questions at all about our personalised wedding papel picado bunting decorations.
Share
View full details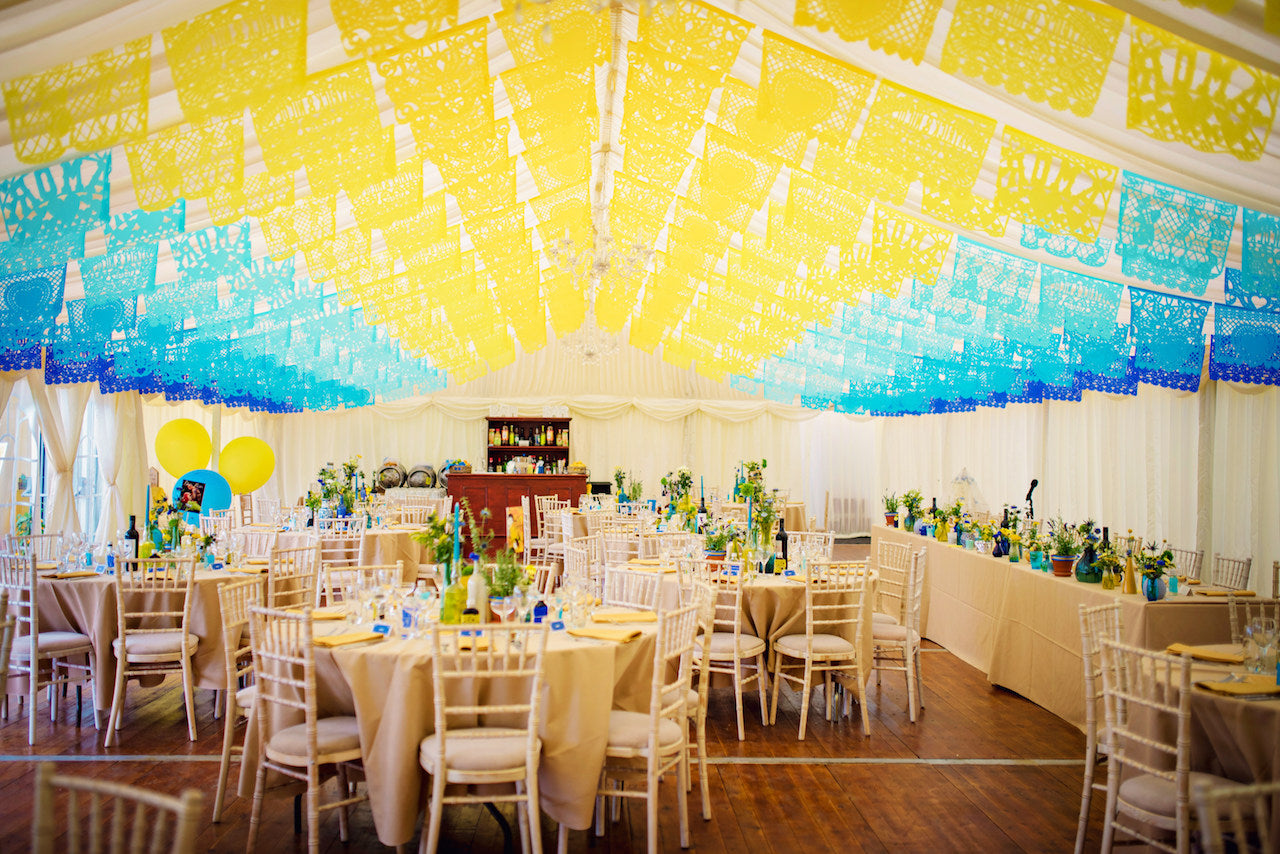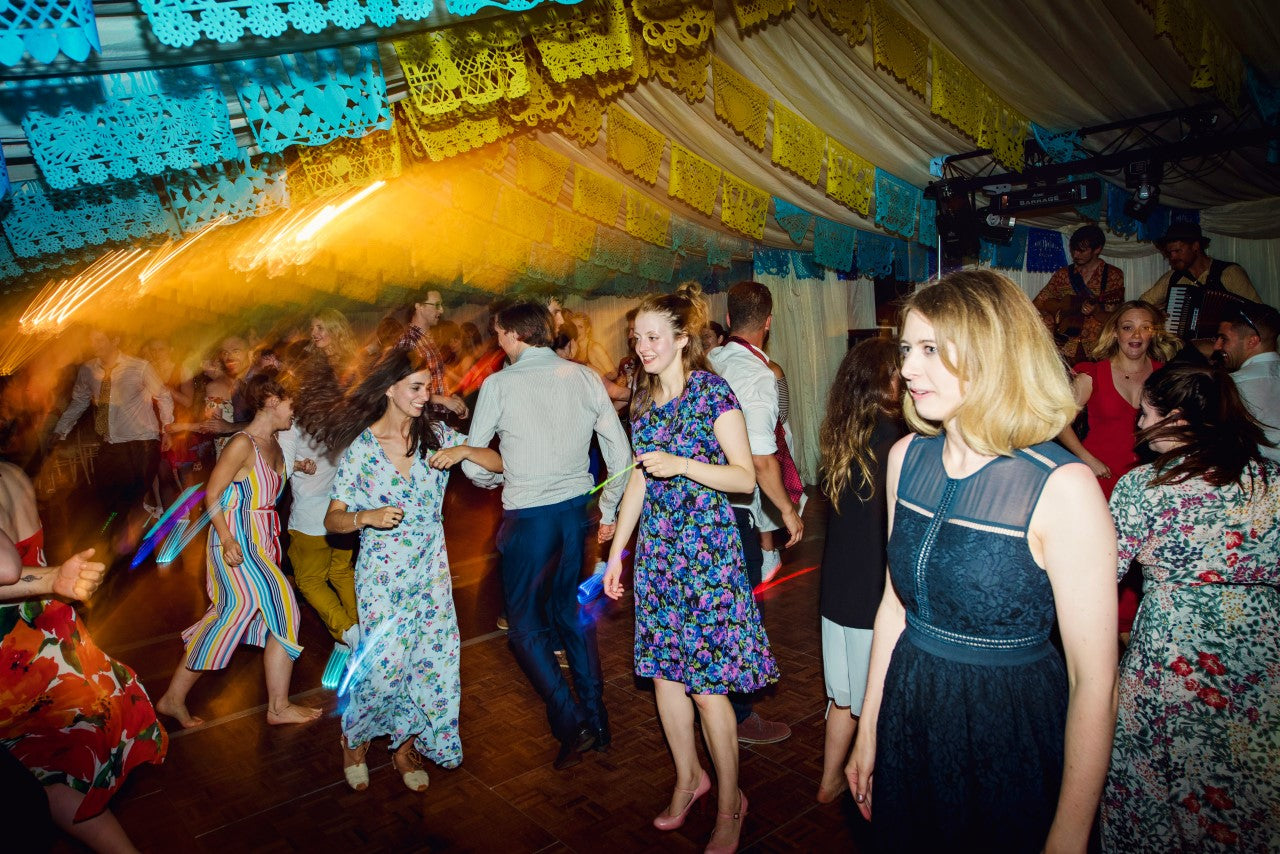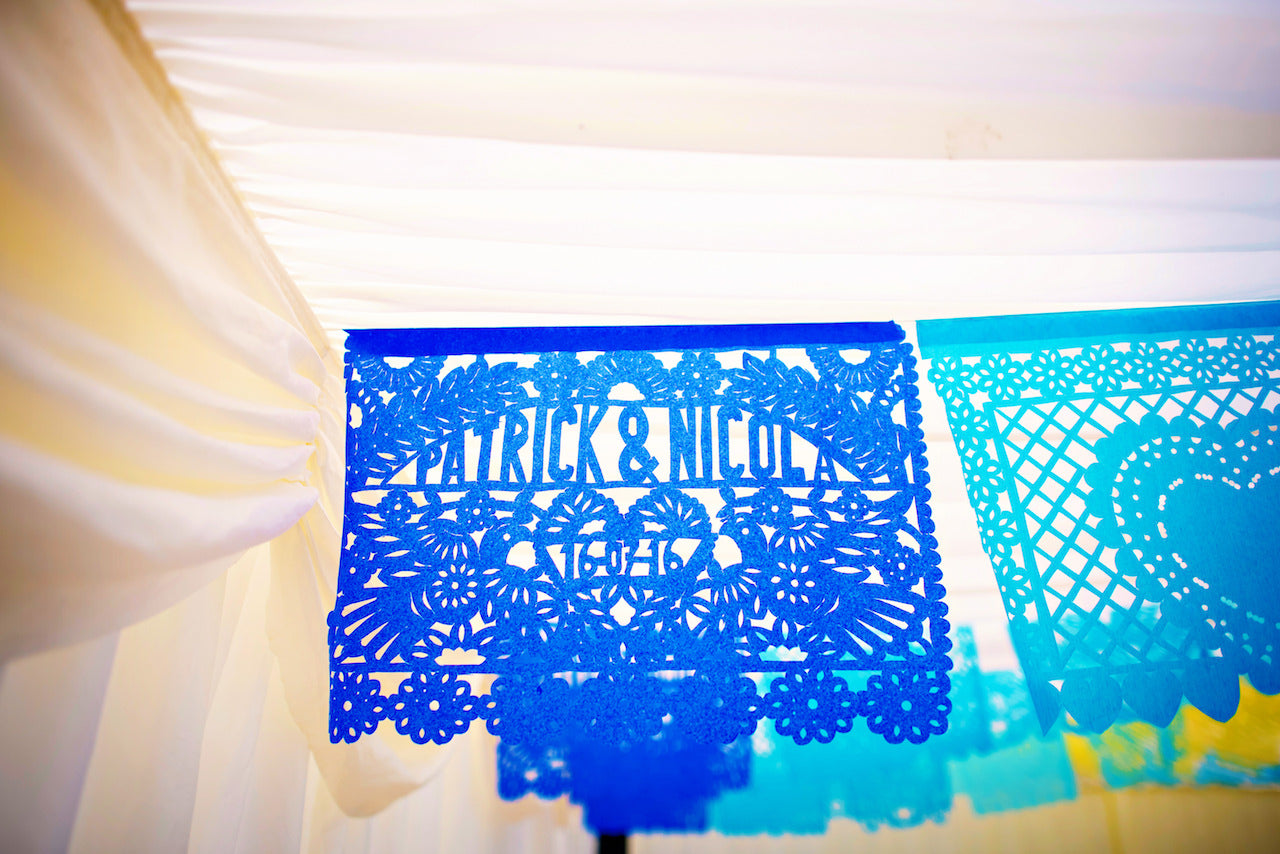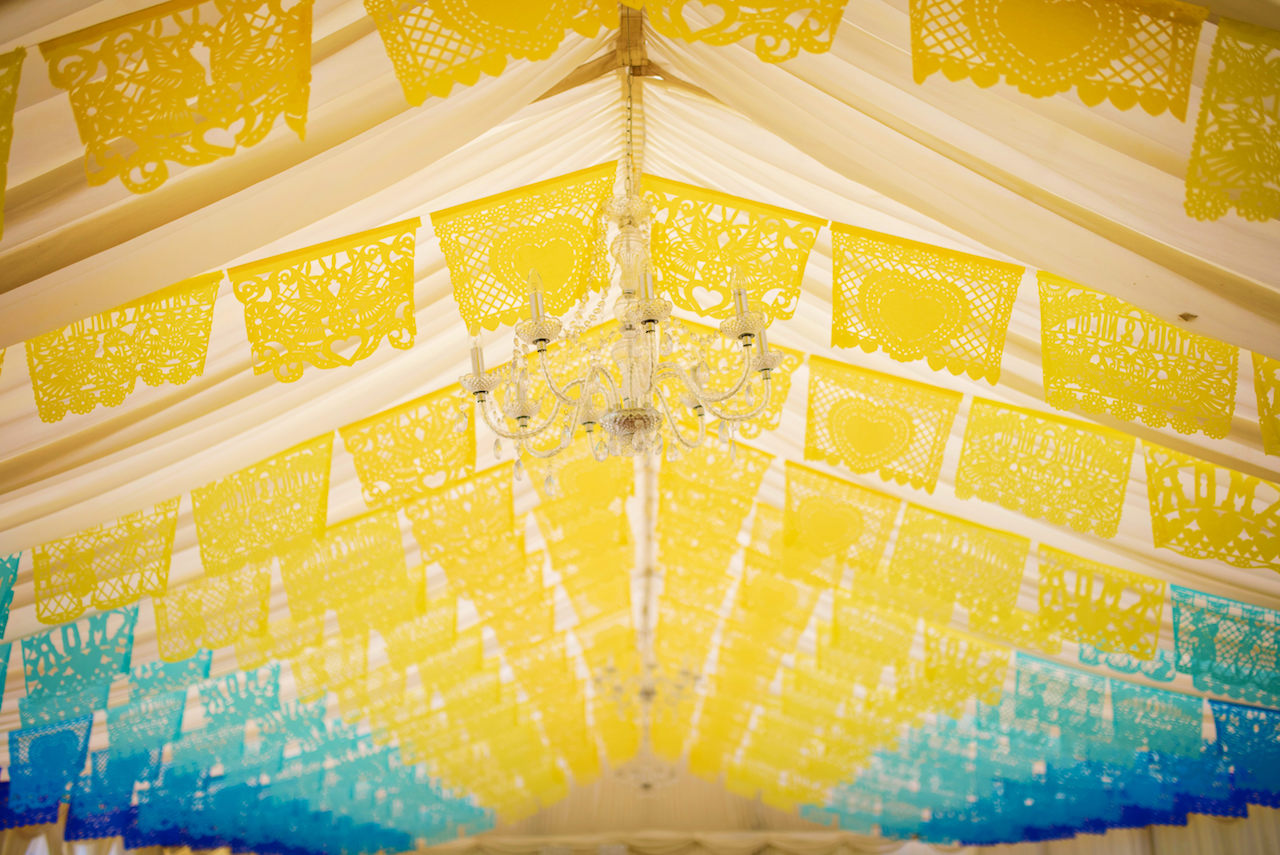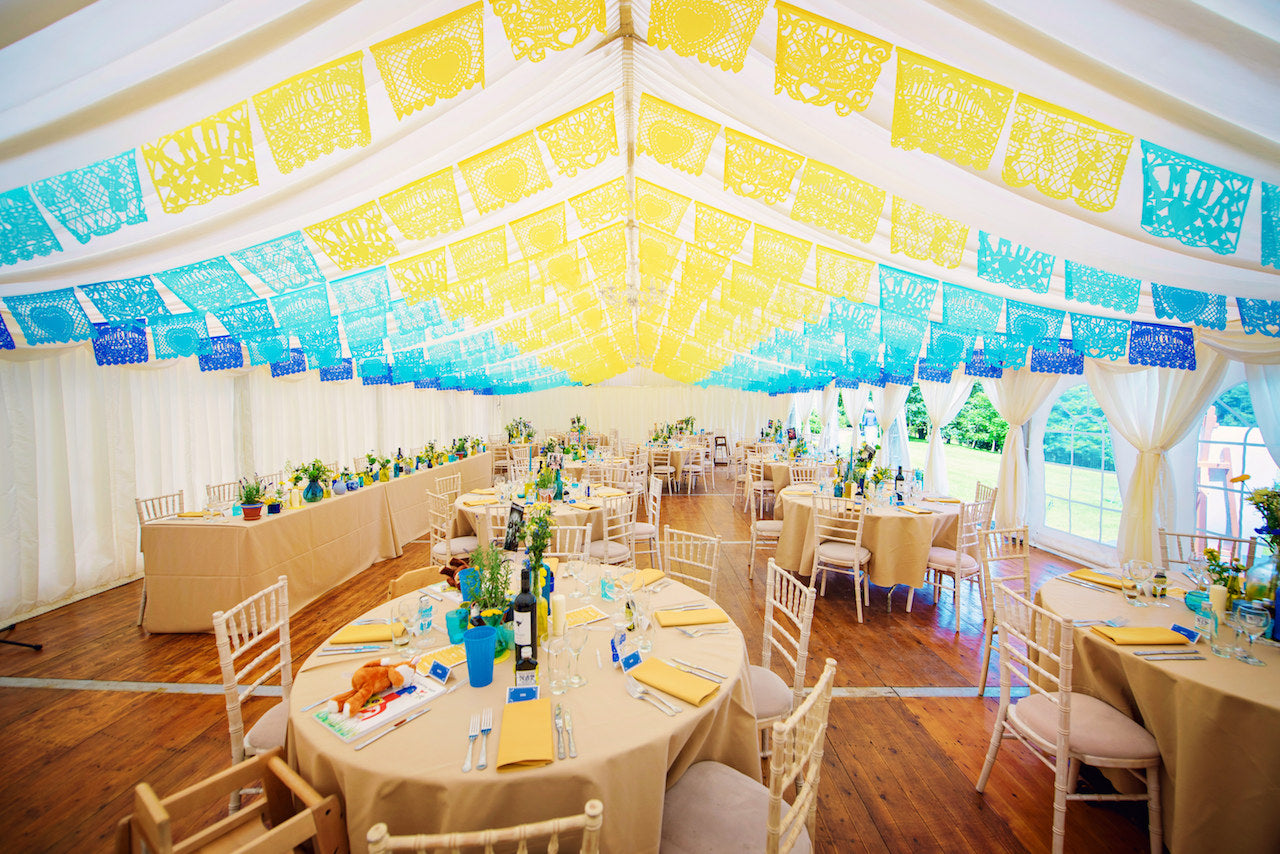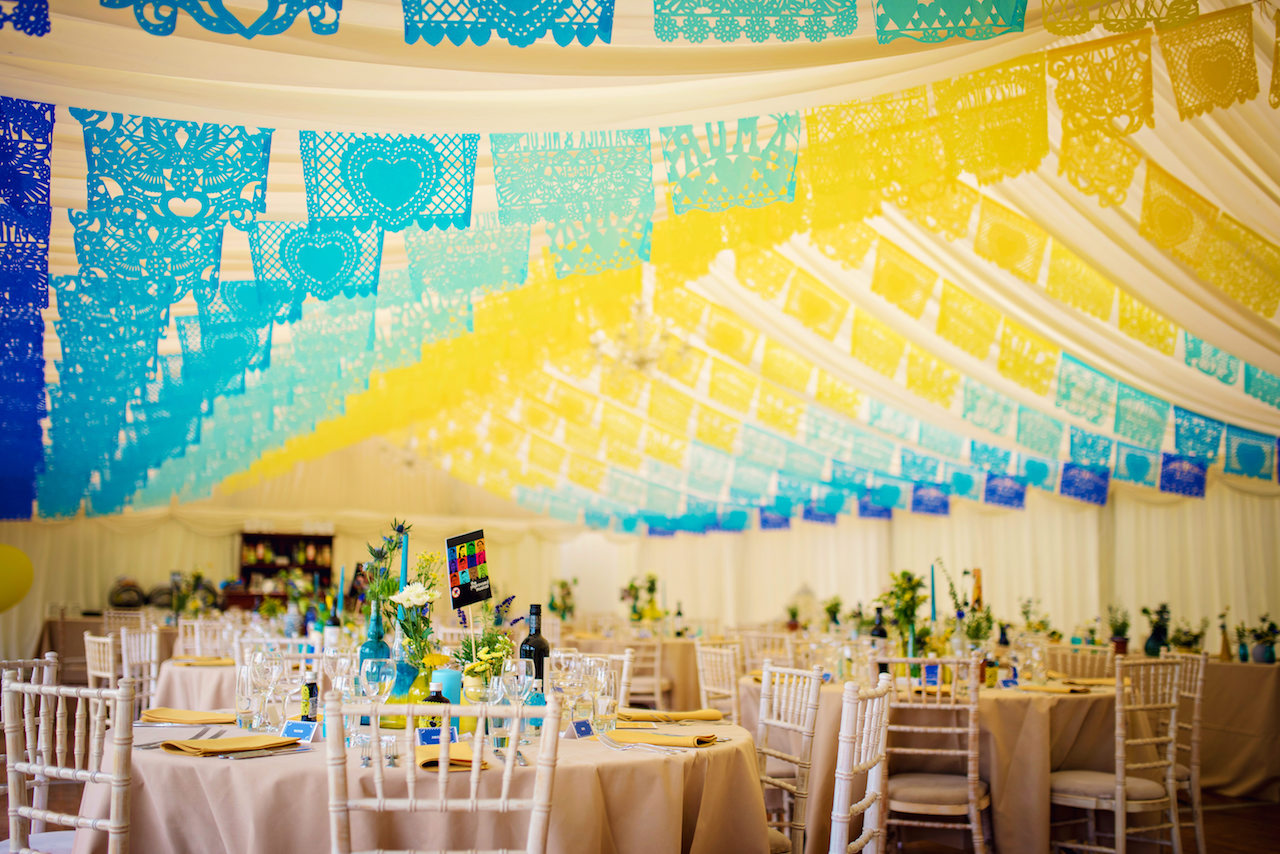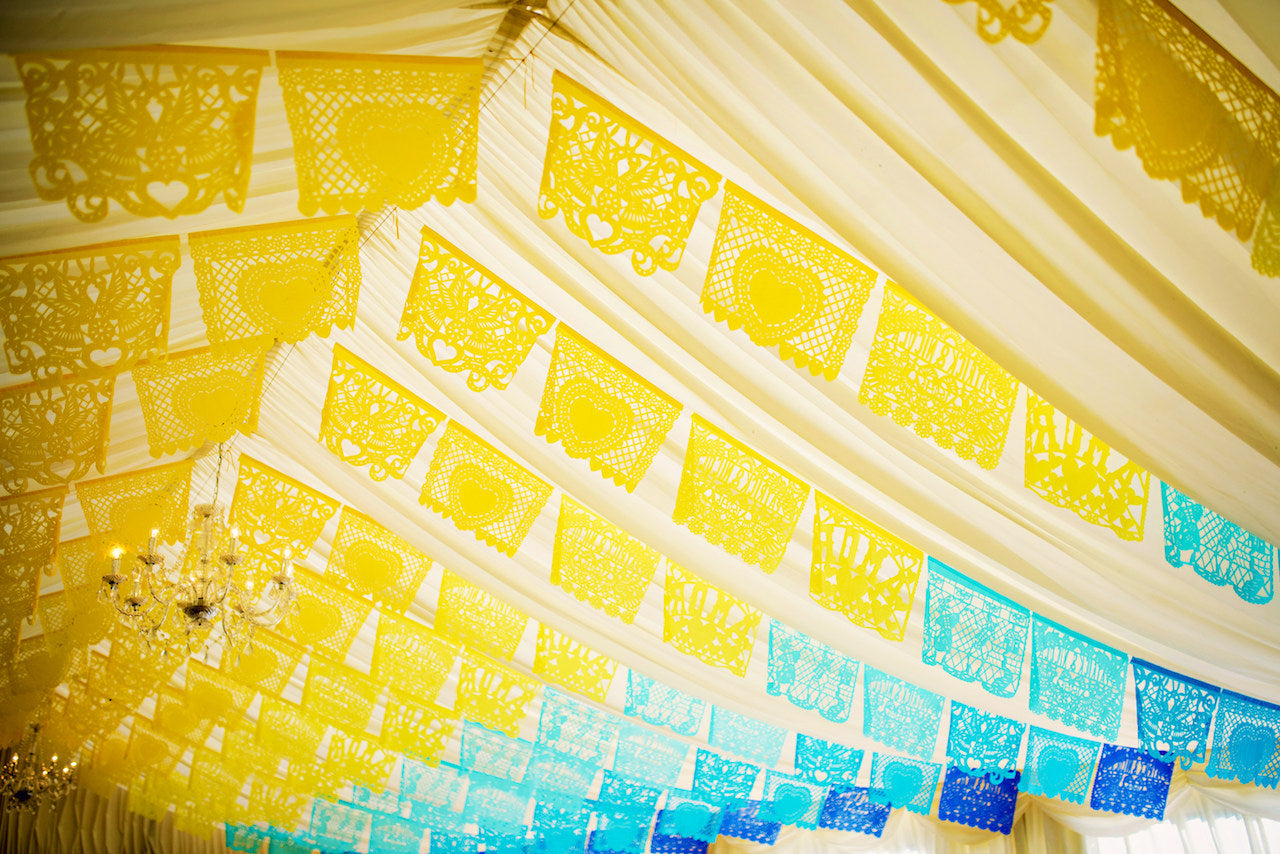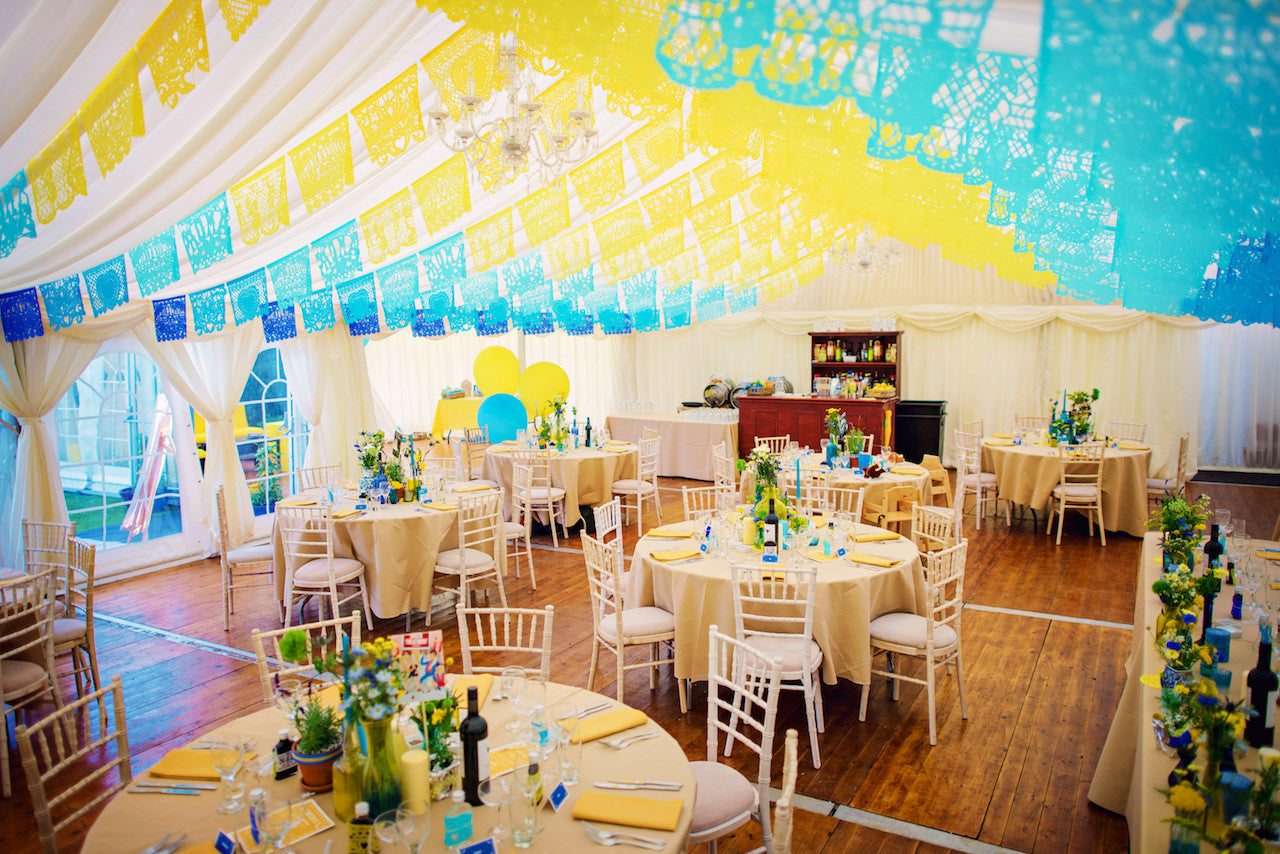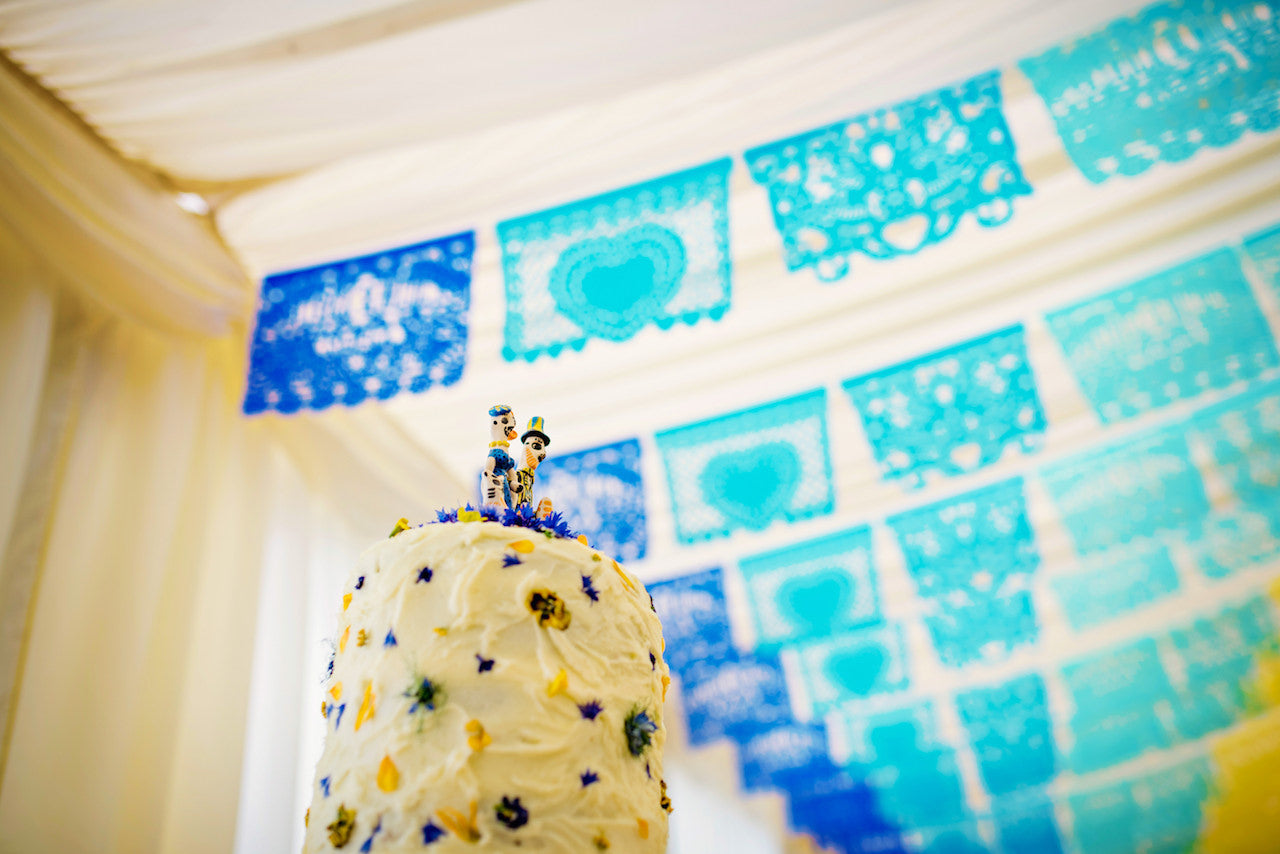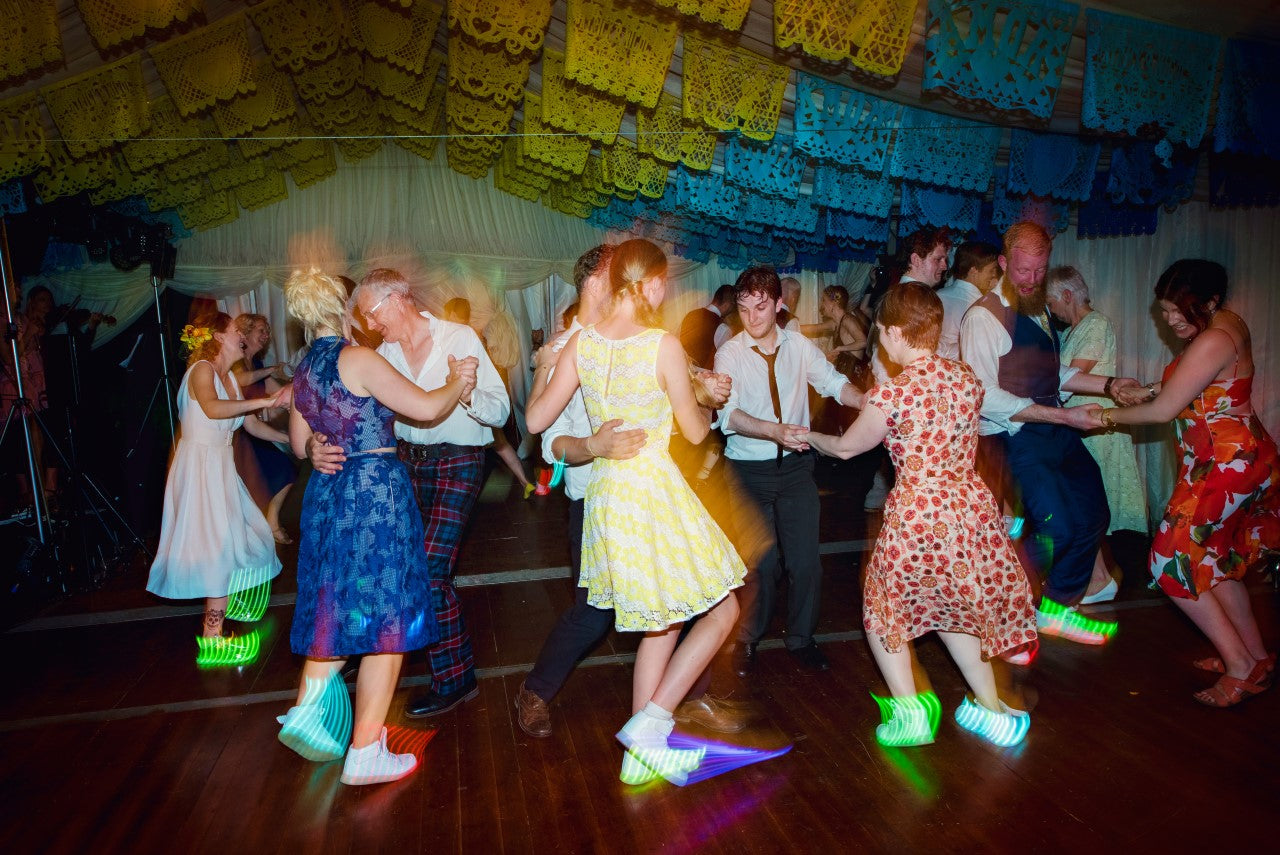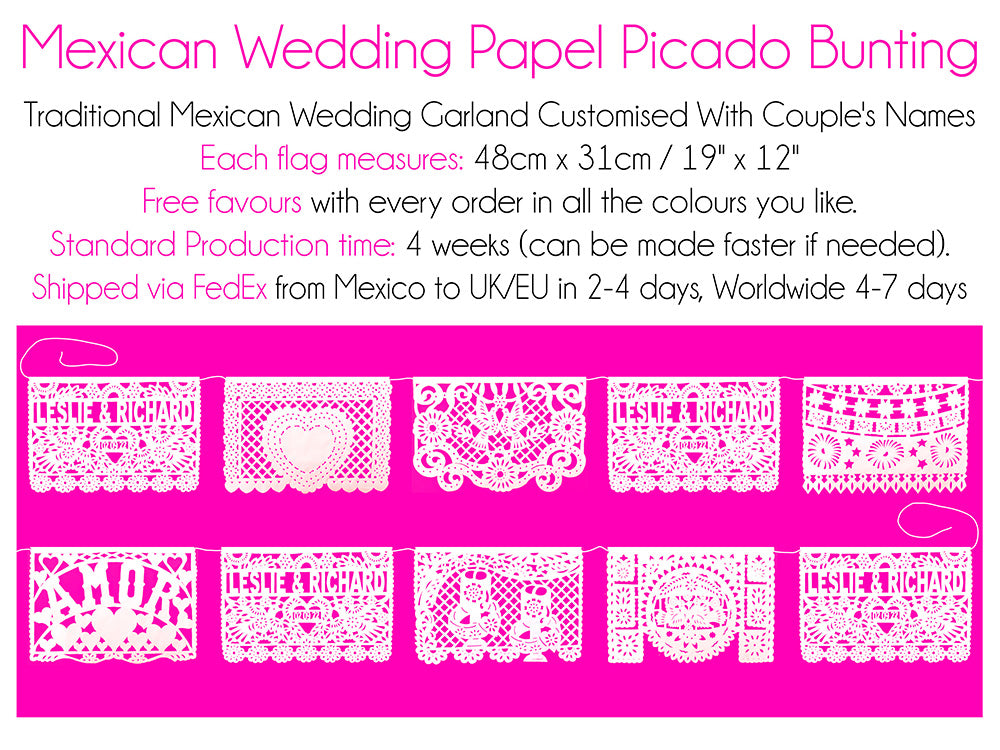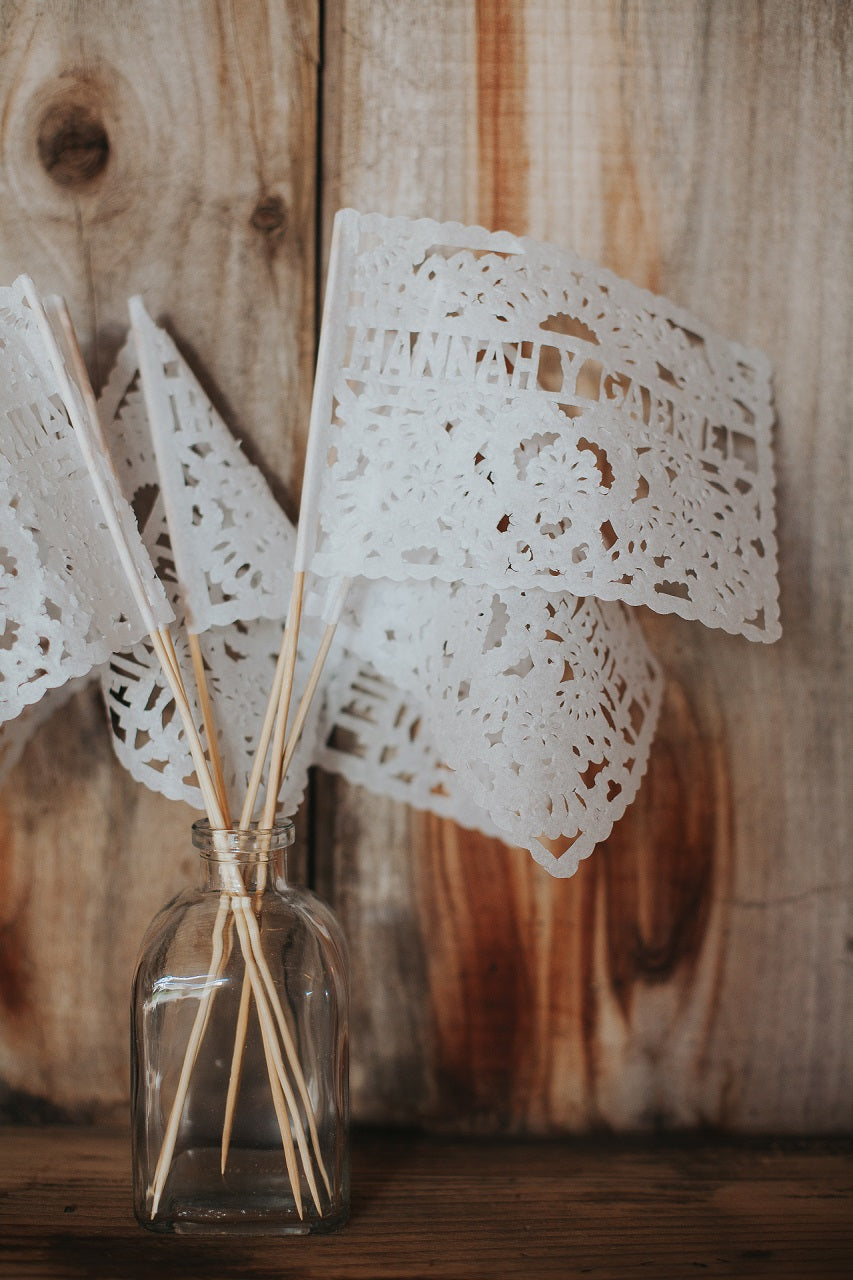 I haven't put them up yet
They were amazing quality and everyone com...
They were amazing quality and everyone commented on how fun they were
Aprylle was EXTREMELY patient and helpful...
Aprylle was EXTREMELY patient and helpful when picking out the colors, quantity, etc for my paper picado for my wedding. They arrived with plenty of time and looked absolutely perfect!
Wonderful banners, so cool to have them pe...
Wonderful banners, so cool to have them personalised. Customer service was great, and shipping was really fast. Thank you so much!
Delivered really quickly. Haven't opened t...
Delivered really quickly. Haven't opened them out yet as they're paper and we don't wanna damage them before the wedding, but they look beautiful in the box! Thank you!