Papel Picado Guide - Everything You Need To Know
Mexican papel picado bunting guide! Unique party decorations that can be used to decorate any event or celebration and leave your guests in awe! Here's everything you need to know about papel picado!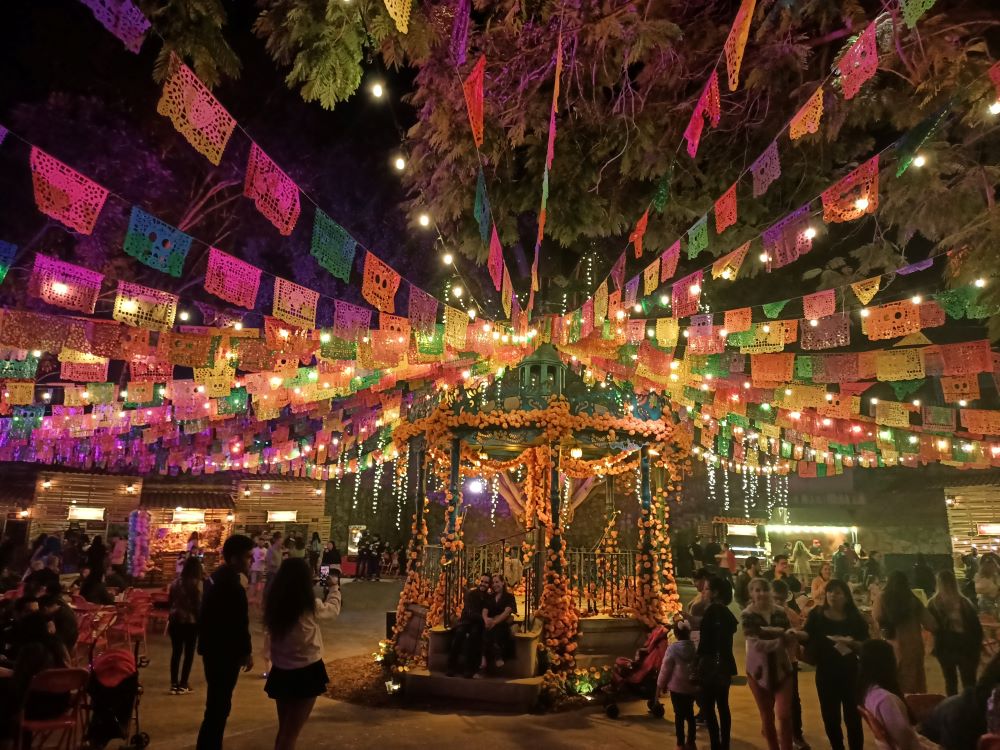 What is Papel Picado?
Papel picado in English is cut paper...sounds simple enough, but the term defines a traditional Mexican craft that is anything but simple. 
Papel picado is party bunting that comes with individual flags made in many different shapes and sizes, in white or a huge variety of vibrant colours, either in tissue paper, plastic or material.
Papel picado is a staple when it comes to Mexican party decorations. The expertly made cuts, beautifully illustrate intricate designs, images and patterns that evoke a sense of awe and enchantment.
The themes represented on these Mexican banners vary widely depending on the cause for celebration.
BUY PAPEL PICADO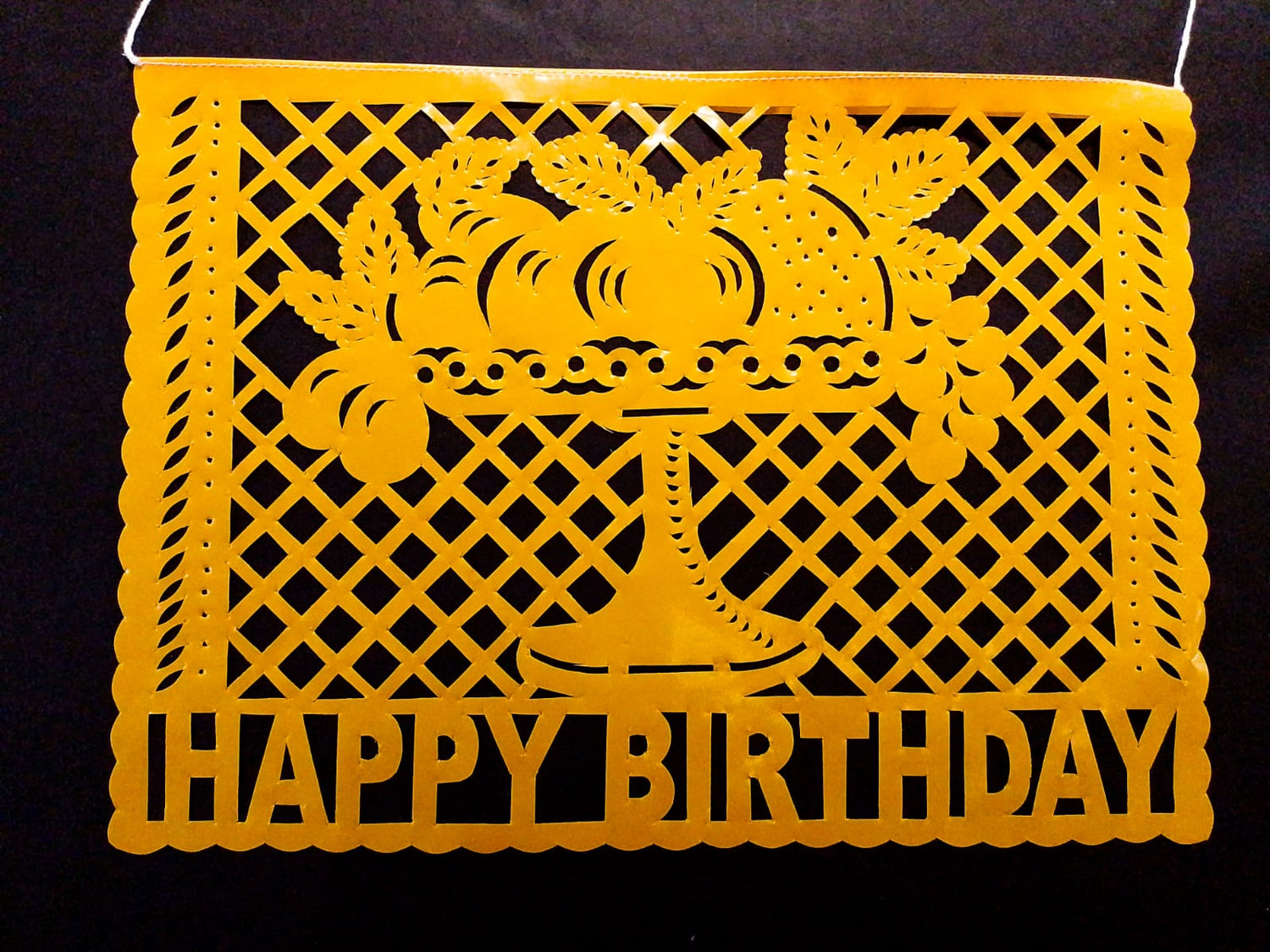 What Is Papel Picado Used For?
Mexican banners can be used for just about any occasion! In Mexico, papel picado is commonly used for Día de Muertos, and for national holidays such as Mexican Independence Day on September the 16th, religious festivities, street parties, weddings, birthday parties...just about any Mexican fiesta!
Adding these very easy to hang fiesta decorations to your celebration can add a unique flair, and since papel picado banners can be personalised for just about anything you can think of - they're a perfect element to include among your Mexican party supplies.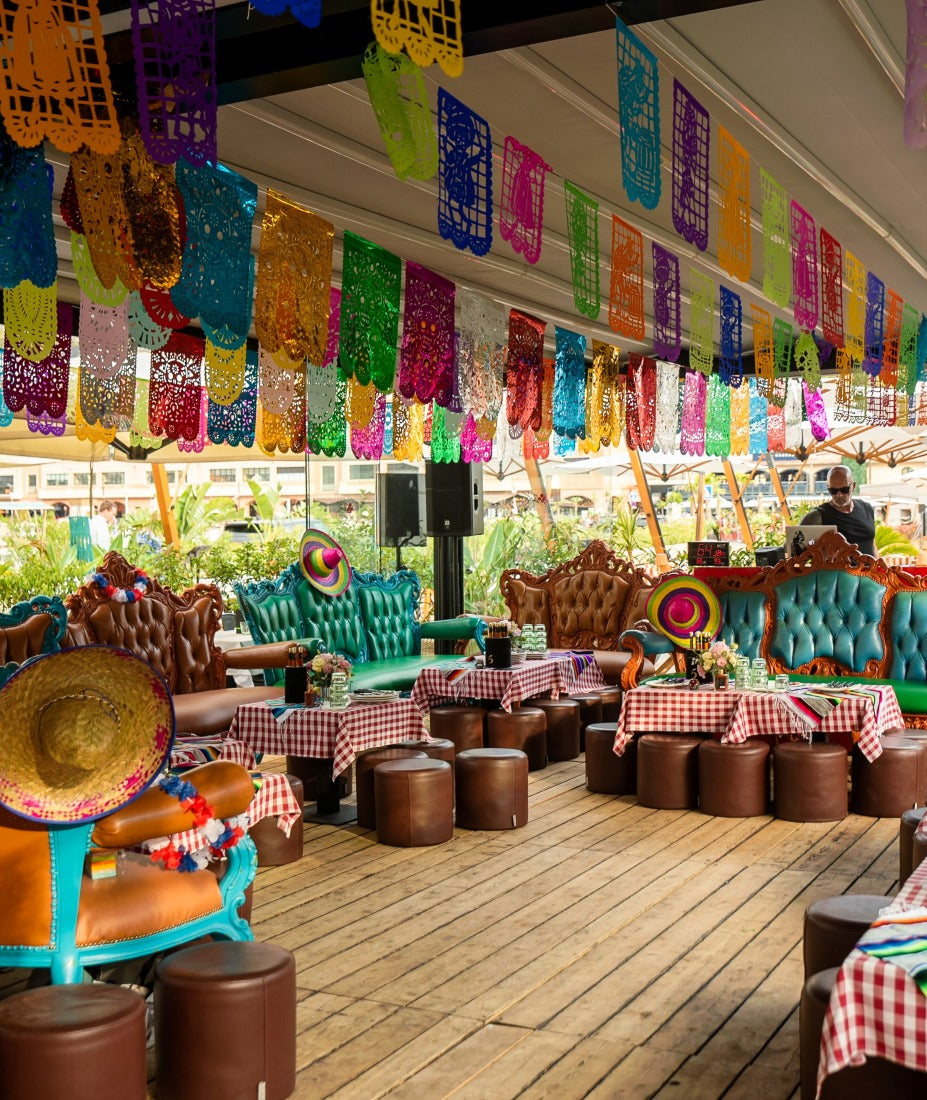 Papel Picado Is Ideal Decor For These Celebrations:
Anniversaries
Baby showers
Birthdays
Block parties
Corporate events
Costume parties
Christmas
Dinner parties
Farewell parties
Festivals
Formal galas
Fundraisers
Graduation
Hen/Stag nights
Housewarming
Masquerades
Mexican-themed parties
Product launches
Retirement parties
Weddings
Wedding showers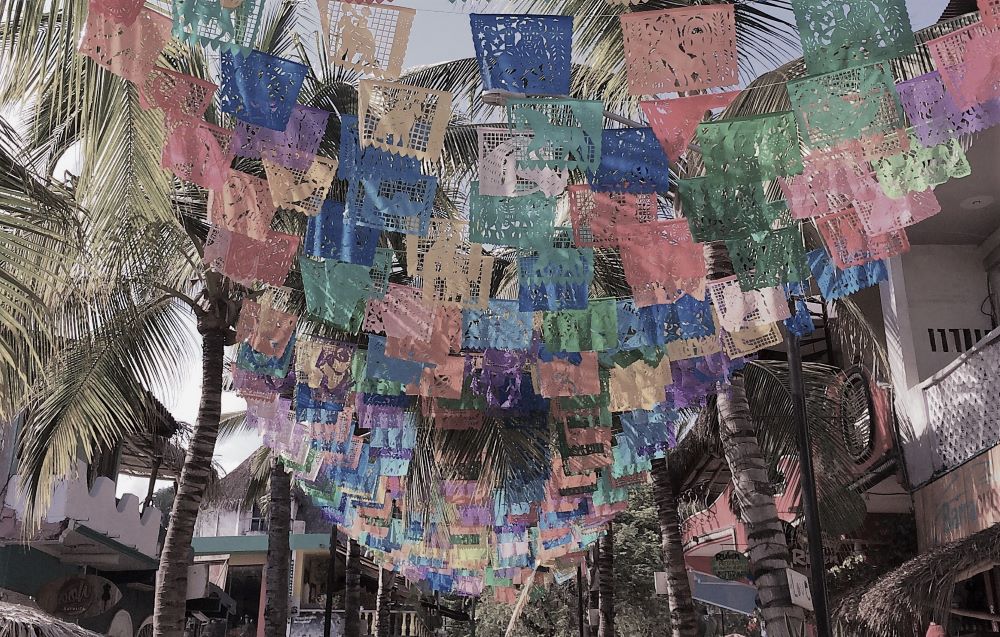 The History of Papel Picado
The history of Mexican bunting can be traced back to pre-Hispanic Mexico.
The Aztecs would utilise a paper made of the bark of mulberry and fig trees called amatl to make flags and banners, used to adorn homes, streets and temples, just as papel picado is used in Mexico today.
This practice evolved when the Spanish came to Mexico, introducing many new foreign products and goods to the region - tissue paper among them (Tissue paper is referred to as papel de china in Mexico, which translates to "paper from China").
That was when artisans began to apply this ancient art form to a new material, and thus, papel picado came to be the quintessential fiesta decoration we know it as today.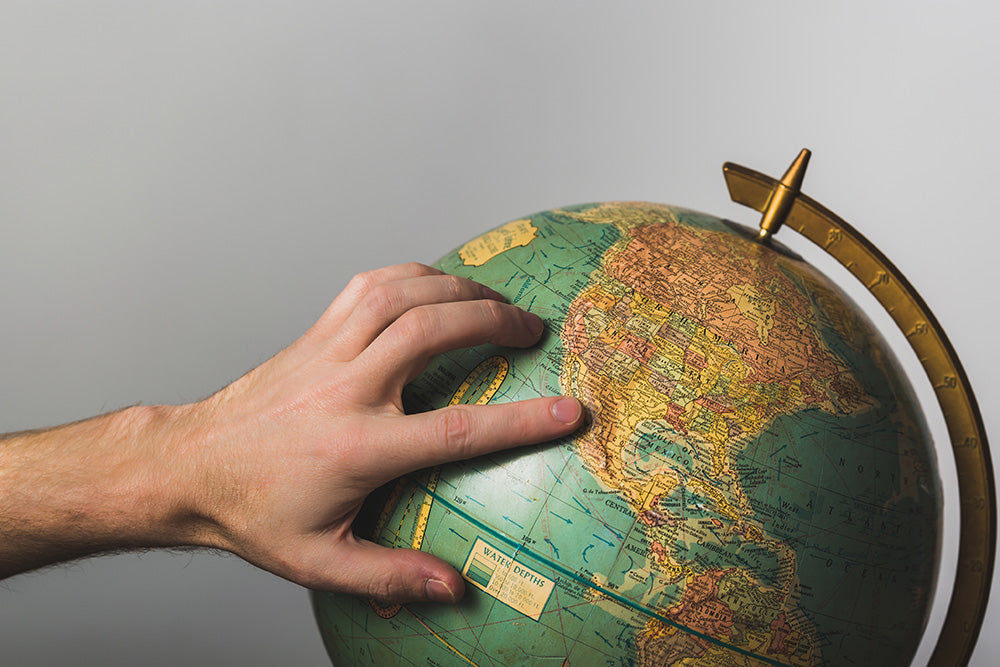 Where is Papel Picado Made?
In the state of Puebla in central Mexico, not far from Mexico City, a municipality by the name of San Salvador Huixcolotla is considered to be the birthplace of papel picado.
It was here that artisans first began carving out papel picado banner designs on tissue paper, a practice that eventually spread to the rest of Mexico in the 20th century.
These days, San Salvador Huixcolotla is home to the largest amount of Mexican paper flag crafters, followed by the rest of the state of Puebla and Mexico City.
In Huixcolotla, papel picado is used primarily on the Day of the Dead, and also during the municipality's greatest días de fiesta - the feast of its namesake El Divino Salvador on August the 6th, and Día de la Candelaria on February 2nd.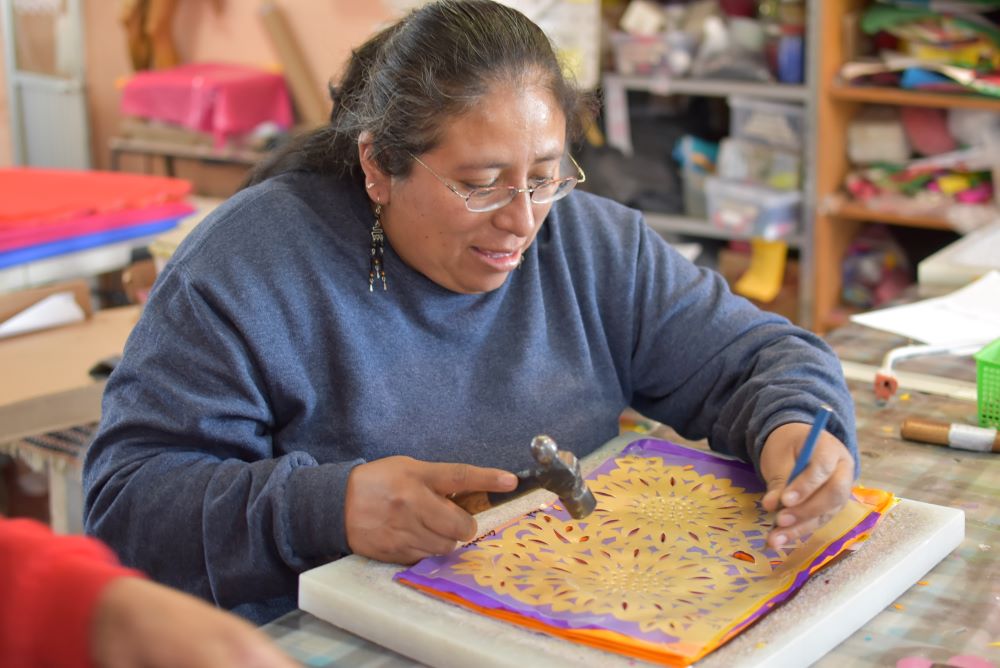 How is Papel Picado Made?
It's easy to recognize a true work of handmade papel picado art, as designs are masterfully crafted, bearing one-of-a-kind images and signature artisan embellishments, making expert use of the elements of art, such as balance and negative space.
Artisans first create their designs on a plastic template. It is then placed over a stack of as many as fifty to one hundred sheets of tissue paper (or sheets of plastic, metallic foil, or material), from which the artisan cuts out the design, using chisels from a collection of hundreds of different shapes and sizes, pushed and cutting into the layers below with a hammer.
It's a process that requires plenty of patience and dedication...seeing a craftsman at work on a papel picado piece is truly a sight to behold.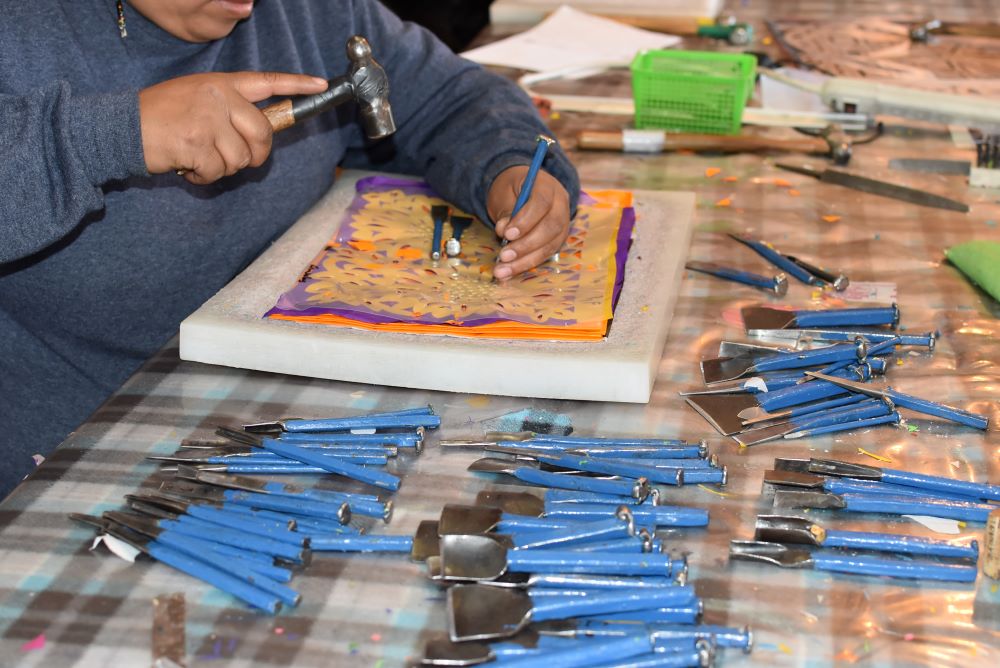 Papel Picado Flag Designs
The possibilities are endless when it comes to papel picado. From the classic figures portrayed on its flags, such as flowers, angels, crosses, skeletons, and skulls, to famous figures and icons such as Frida Kahlo, la virgen de Guadalupe (Our Lady of Guadalupe) or famous luchadores (Mexican wrestlers); to names, and even company logos...your papel picado banners can bear just about any image or text you can think of.
Check out some of our custom papel picado flag designs.
GET FLAG DESIGN INSPIRATION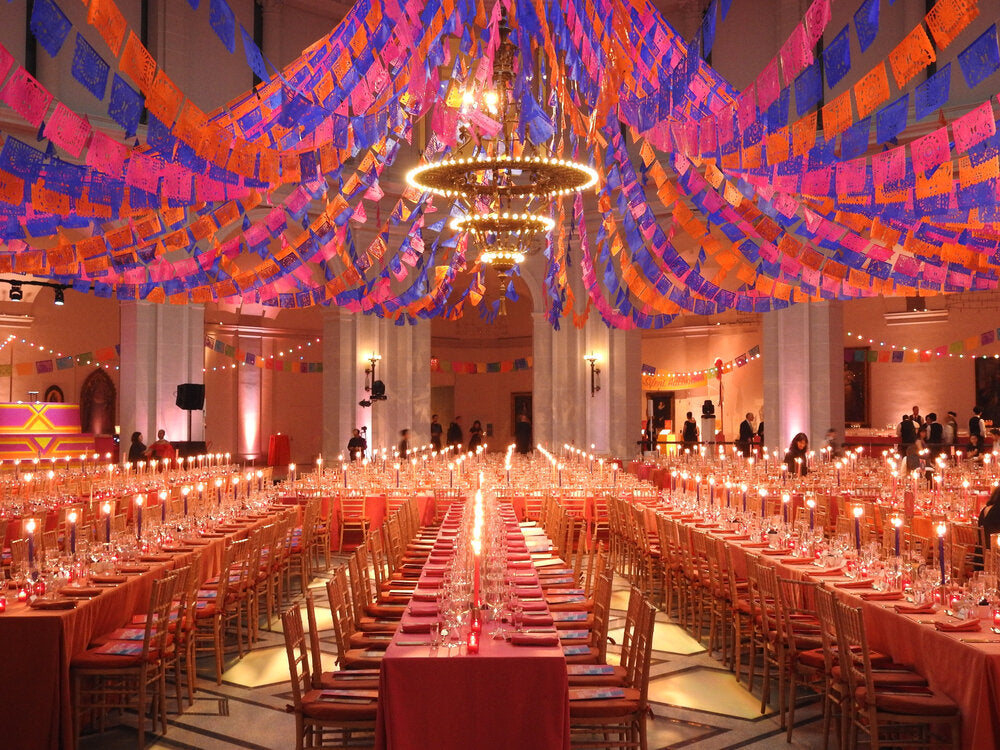 Papel Picado Hanging Styles
Papel picado is hung up in the same way that regular bunting is hung; decorating walls, or spanning across an open overhead space like a ceiling, street or an aisle, creating an instant fiesta feeling.
The colourful rows of banners can either be all mixed, creating a wild fun fiesta look, or the rows can be hung with the colours in each row matching up in consecutive lines, which also looks very striking.
Papel picado can also be hung up in a tight circular shape, over a dance floor for example, creating an amazing vibrant circular ceiling of colour, with the different bands of colour made up from the concentric rows of the same coloured flags, which will add a totally unique design to your dance floor or whole venue.
Not sure how much papel picado to buy? Check out our guide here on how much papel picado to order.
VIEW HANGING STYLES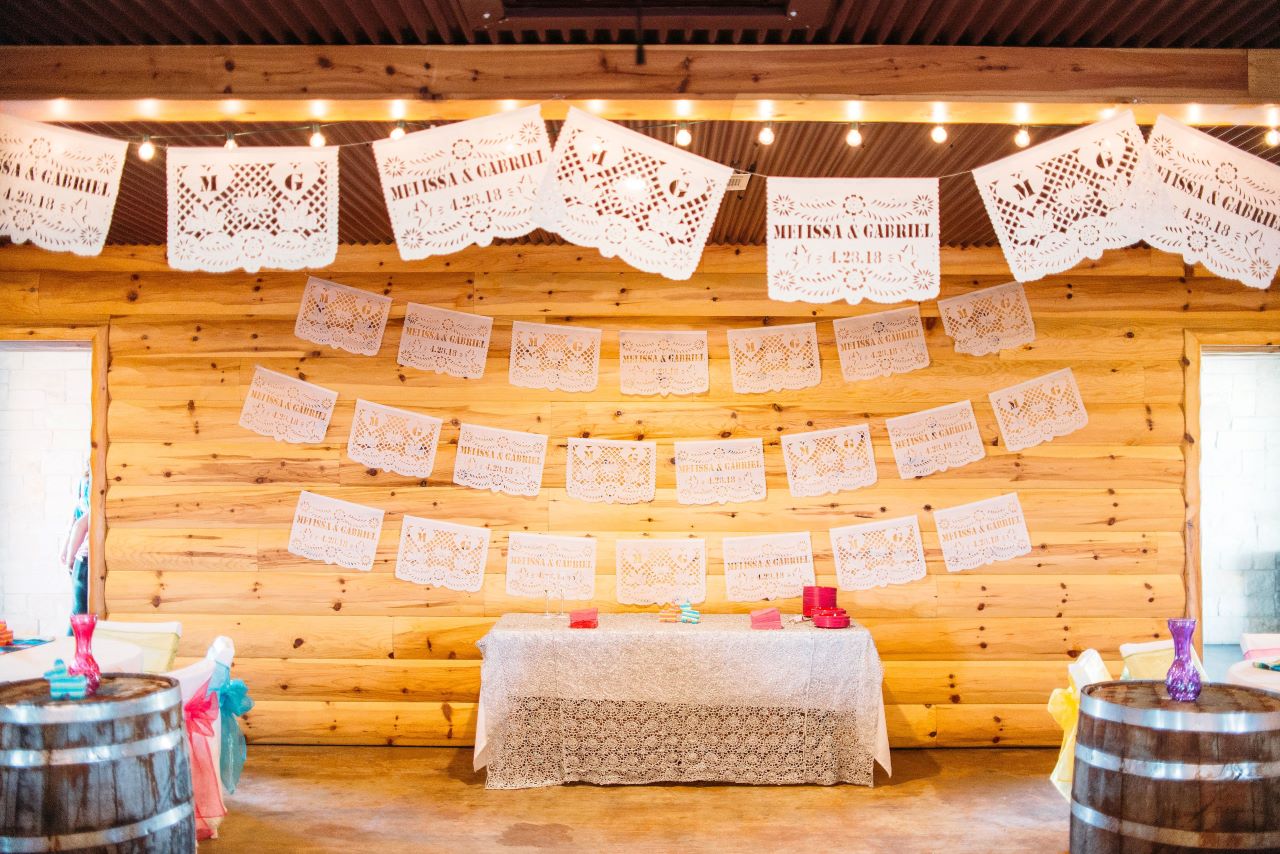 How Is Papel Picado Hung Up?
All our garlands come with lots of extra string at each end for tying. Here are various ways to hang them up:
Either take the end of the string and tie it in a loose knot around anything available.
Or wrap the string around a 3M Command Decorating Clip
Wrap twice around piece of clear strong sellotape stuck to a wall.
Tie to a tack nailed into the wall.
Here is our full guide on how to hang papel picado.
HOW TO HANG PAPEL PICADO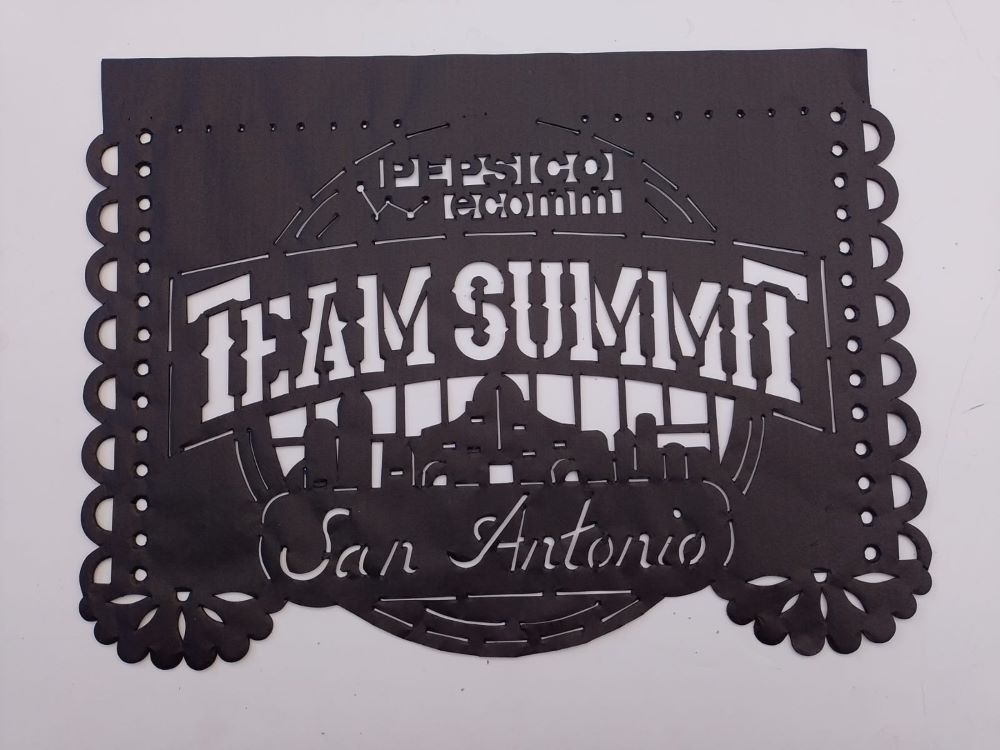 Custom Papel Picado Bunting
Papel picado are amazingly versatile party decorations so can be used to decorate any kind of event or celebration. One of the best things about papel picado is they are 100% customizable, you have the freedom to be really creative and make your own personal unique event decor. With your own colour selection, your own flag designs, your choice of garland lengths, custom-made to your personal taste.
Buy Custom Papel Picado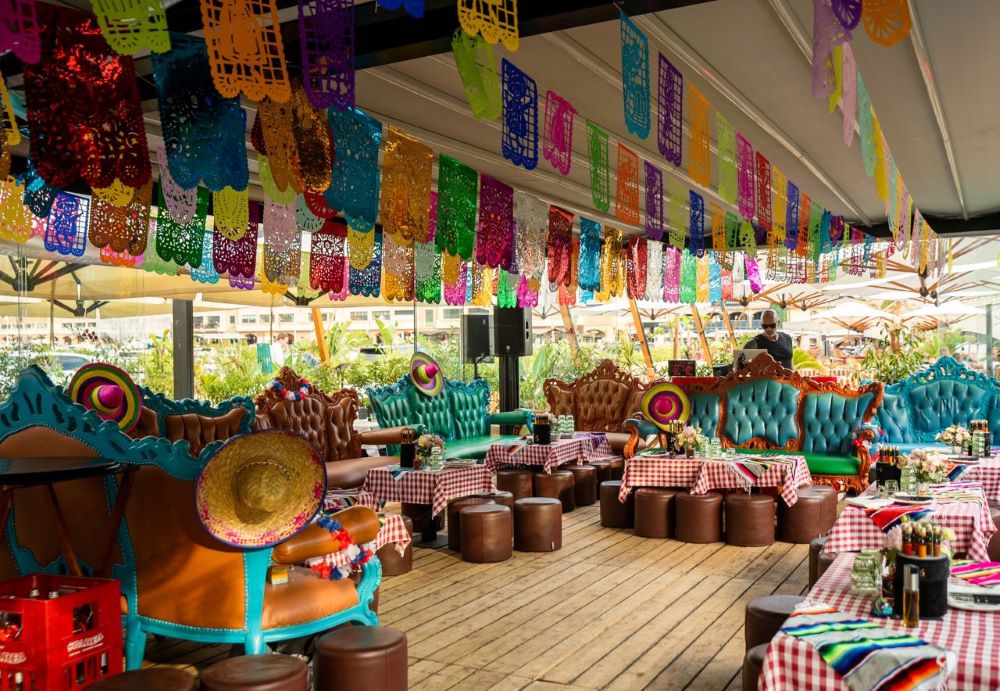 Contact Us
If you're not sure how much papel picado to order, would like to chat with us about a large event you are holding, or if you have any other enquiry, please contact us.
Contact Us